After the brilliant Doc/Fest hit Sheffield last week we've been thinking about documentaries, so here's a brief look at a few of  the 150+ documentaries on offer via the BFFS Booking Scheme.
Shut Up and Play the Hits
The carefully orchestrated end to a hugely influential band – Shut Up And Play The Hits details the build up to, and aftermath of, LCD Soundsystem's final ever gig. An epic 4 hour gig at Madison square Garden saw LCD Soundsystem hold 'the best funeral ever'. The doc presents an intimate portrait of frontman James Murphy, who's honest and unflinching interview with Chuck Klosterman, as well as the footage of him the day after the gig, contrasts with the incredible concert footage. Watch the trailer
Way of the Morris
Filmmaker Tim Plester embarks on a journey from his childhood village to the battlefields of World War I as he explores the connection between the morris dancers of Adderbury and the history of his community. A film about the importance of tradition and spirit in rural communities Way of the Morris is a moving and, thanks to Plester's self-mocking persona, amusing look at the oft-maligned art of morris dancing. Watch the trailer
The First Movie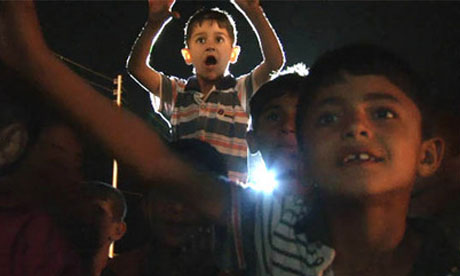 In 2008 Mark Cousins' travelled to Goptapa in Northern Iraq, a town that was devastated during Saddam Hussein's genocide against the Kurds. But Cousins did not go to simply make a film about what happened, but to allow the children of the town to make their own films. First he introduced them to cinema – none of the children had seen a film before – and then gave them camera to make their own films. The results are magnificent, heart-breaking and insightful; and Cousins' documentary is testament to the power of film.
Bobby Fischer Against the World
The remarkable story of Bobby Fischer, arguably the greatest chess player ever, who not only became the youngest grandmaster in history, but also won what was described as the "Match of the Century" against the Russian Boris Spassky. The match in 1972 played out against the backdrop of Cold-War tensions and made Fischer world-famous. His victory brought him huge fame across America, but he almost immediately disappeared from competitive chess and his behaviour became more erratic.  By the 1990s he was wanted by the US Government for breaking an embargo, and he was held in Japan before escaping to Iceland. Combining interviews with rare archival footage, Liz Garbus's documentary is a fascinating and engrossing look at a troubled genius. Watch the trailer
Swandown
Likely to put off those who don't appreciate its eccentric sense of humour, Swandown is a bizarre and seemingly pointless film that I nevertheless find to be uniquely entertaining. A travelogue of sorts, filmmaker Andrew Kötting and writer Iain Sinclair steal a swan-shaped pedalo from Hastings and pedal it up the River Thames to Hackney; partly as an act of protest but mostly to demonstrate the idiocy of pedalling a pedalo 160 miles up a river. Along the way they ruminate on the English countryside and are shouted at by passers-by. Bemusing, diverting and strangely thought-provoking Swandown is (probably fortunately) one of a kind. Trailer
And if you were around at the festival here's a few films that are on the Booking Scheme/coming soon:
We Are Poets – Profiling the teenagers that make up Leeds Young Authors, and their entry into Brave New Voices, a prestigious poetry slam competition held in Washington, DC, We Are Poets demonstrates the power of the spoken word. (Available now)
The Act of Killing – Joshua Oppenheimer confronts former members of Indonesia's death squads. Unrepentant of their crimes, Oppenheimer encourages them to stage bizarre and chilling re-enactments of their murders. In doing so they begin to realise the horror of their actions. Winner of the Special Jury Award at Doc/Fest. (Available later this year)
Blackfish – In 2010, Tilikum, the killer whale who has become Seaworld's biggest attraction, killed one of its trainers. Though there are no reported incidents of orcas attacking humans in the wild, this is not the first time Seaworld's killer whales have injured trainers. Blackfish looks at the damage done to animals held in captivity and argues for a drastic reform to such practices.  (Available later this year)