From a seductive French thriller starring Kristin Scott Thomas to a pair of breathtaking globe-trotting documentaries there's plenty of variety in the latest additions to the Booking Scheme.
Baraka | Ron Fricke | 1992 | US | 96 mins
Samsara | Ron Fricke | 2011 | US | 102 mins
Ron Fricke has built his career around capturing the beauty and majesty of our world. As a cinematographer and director he is responsible for some of the most stunning images ever committed to film. Both Baraka and Samsara, now available on Blu-Ray from the BFFS Booking Scheme, are prime examples of cinema one can sink into. They are supremely stunning works which invite the audience to submit to their visual splendour, to sit back in awe. And yet Fricke does more than simply show – his works are a treatise on the links between nature and civilisation, culture and society. He draws parallels between human activity and the natural world, depicts the cycle of creation and destruction that permeate the natural and man-made world, and although he presents beauty in both there is the cautious warning that we have irreparably altered the natural world. A sequence in the middle of Baraka shows a felled tree disturbing a tranquil scene – it is hard not to feel the jarring disruption the felling makes. Both Baraka and Samsara are filmed in locations all across the world across a number of years and Fricke's decision to shoot everything on 70mm demonstrate a remarkable commitment, one which has paid off in two of the most stunning documentaries ever made.
Roger Ebert described the Blu-Ray release of Baraka as "the finest video disc I have ever seen or imagined".
The Hunters  (Jägarna) | Kjell Sundvall | 1996 | Sweden | 113 mins
False Trail (Jägarna 2) | Kjell Sundvall | 2011 | Sweden | 129 mins
In The Hunters Erik, a Stockholm policeman, returns to his hometown to live with his family and to work with the local police instead. At first he is welcomed home with open homes and accepted by the local community. However he soon learns that the local police are inexplicably ignoring a case involving the slaughter of several reindeer. When he sets about solving the case he finds that the town starts to turn against him and each revelation brings a turn for the worse. A thrilling example of Scandinavian noir and one of Sweden's biggest films ever The Hunters won two Guldbagge Awards from the Swedish Film institute, and was nominated for three more.

In 2011the sequel False Trail was released in Sweden. During the 15 years that have passed since the events of the first film, Erik has been promoted to the National Murder Commission. When a murder is committed back in his home town his superiors order him to investigate against his better judgement. He teams up with local sheriff Torsten (Peter Stormare in one of his best performances) and uncovers a much larger crime than anticipated.
Love Crime | Alain Corneau | 2010 | France | 106 mins
Corneau's last film as director is a twisty thriller set in the executive offices of a large multinational corporation. Cunning and ruthless, Kristin Scott Thomas plays Christine, who as the boss of the French office is a determined and opportunistic woman willing to do almost anything to get a promotion. When she takes on a protegé, the young Isabelle, Christine is perfectly happy to use both professional and personal pressure to exploit Isabelle but she proves to be more than a match for Christine. A masterfully crafted thriller Love Crime layers intrigue and mystery around two powerful central performances.
Salute | Matt Norman | 2008 | US | 120 mins
In the 1968 Mexico Olympics two Americans, Tommie Smith and John Carlos, and an Australian, Peter Norman were the three medallists at the 200m. As they stood on the podium Smith and Carlos raised their firsts in a black power salute  during the American National Anthem while all three wore Olympic Project for Human Rights badges after Norman, an outspoken critic of the White Australia Policy, expressed sympathy with Smith and Carlos' protest. A hugely public protest the event is regarded as one of the most overtly political statements in the history of the Olympics. Matt Norman's documentary focuses on the consequences on the protest, particularly focusing on the ostracization his uncle suffered as a result. All three were blocked from future athletics events – in Norman's case though he qualified for the 1972 Olympics 13 times over he was passed over by the Olympic team who had no sprinters for the first time. In the following years Norman suffered from depression after his career ended before it had really begun and in 2000 he found himself the only Australian athlete not invited to take part in a VIP lap at the Sydney Olympics.  Norman's documentary is a fascinating documentary at the unjust consequences of a simple act of solidarity, and is deeply personal and moving.
Watch a Newsnight interview with Tommie Smith ahead of the film's UK release here.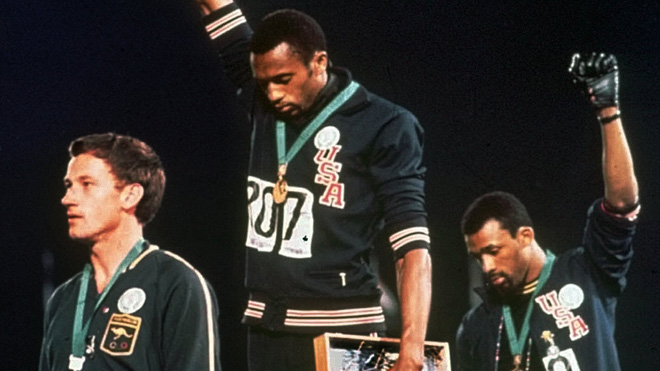 Uniform | Diao Yinan | 2003 | China, Hong Kong | 94 mins
As China undergoes economic unrest and cities surge in size many workers find themselves at the behest of corruption, intimidation or poverty. Xiao Jian is a poor young man who works as a tailor on a street stall. Though shy and unassuming Xioa is drawn to the idea of playing cop when a police officer's shirt is left uncollected. Putting it on he finds he himself respected; doors open for him; he extorts money from commuters who break traffic laws and wins the attention of a young lady. Though his new double life presents him with the opportunity to escape his previous life it is not without its own risks.
An intimate and devastating film Uniform balances a profound and human story with social critique. Read a great review of the film here.
We've also just added The Housemaid a contemporary remake of the classic Korean drama that bucks the remakes trend and is an exceptional and unique film in its own right. You can read can read more about the film here.